EASY PIVOT
THE COMPLETE SYSTEM FOR PIVOT OPENINGS
Pivot windows are a practical and versatile solution for creating locking systems with compact size, suitable for limited spaces, that ensure good lighting and effective ventilation. The pivot window is an architectural solution increasingly used all over the world, and Master Italy answers to this demand by introducing Easy Pivot.
This is a complete system that consists of hinges, fixing kits, perimeter locking systems, and additional locking systems.
Why choosing EASY PIVOT?
Easy Pivot is composed of a pair of extruded aluminum hinges with a modern and essential design with a wide range of finishes available. It is the pivoting system with the rotation axis almost in line with the window center of gravity.
Easy pivot is an extremely versatile system thanks to its universal hinges for CE profiles and R systems, to the possibility of vertical and horizontal application and to the fixing kits that allow the product to be adapted to most of the systems on the market. Furthermore, the perimetral closing kits guarantee the maintenance of the performances in terms of wind resistance and thermal transmittance.
Easy Pivot is equipped with a 3 position locking system 25°/ 45°/ 170° (in the horizontal version) to ensure maximum safety and maneuvering comfort even in cleaning and maintenance.
Easy Pivot allows you to create frames with a capacity of up to 80 kg in vertical application and up to 120 kg in horizontal application. Using the additional locking kits allows creating configurations up to 1.80 m in height (vertical) and up to 2.5 m in width (horizontal).

 TECHNICAL CHARACTERISTICS:
1- Pair of universal hinges with 3-position locking system 25 ° / 45 ° / 170 ° (in the horizontal version) and adjustable friction
2- Fixing kit for adaptability on Euro groove systems (with thickness) with R40 slot. Height adjustment +/- 1.5 mm
3- Perimeter locking points kit to guarantee performance and safety
4- Additional closure kit for configurations: up to 1.80 m in height and maximum load up to 80 kg in vertical application and 2.5 m in width and 120 kg in horizontal application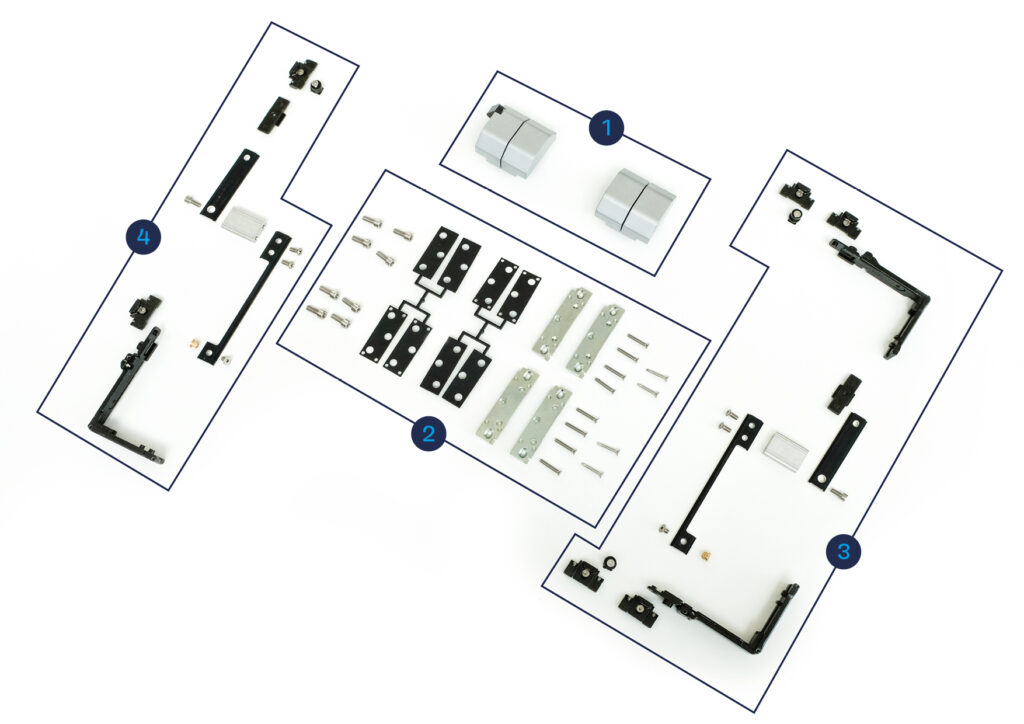 Download the brochure and discover 
EASY PIVOT the new complete system for pivot openings