Do you have a specific request for our products?
Contact the representative of your area

DISCOVER WEEN HIDE 180 THE INVISIBLE SOLUTION FOR ALL TYPES OF OPENINGS
The new WEEN HIDE 180 is Master Italy's solution for tilt & turn, casement and bottom hung systems that meets all requirements in terms of load-bearing capacity, design, functionality and durability.
WEEN HIDE 180 is the most advanced and high-performance version of the WEEN PROGRAM, with a minimalist design featuring concealed hinges with 180° opening that can be used for all types of opening systems.
The new HIDE 180 hinges are designed with a load-bearing capacity of up to 130 kg with 180° opening, and up to 150 kg with an opening limited to 90°.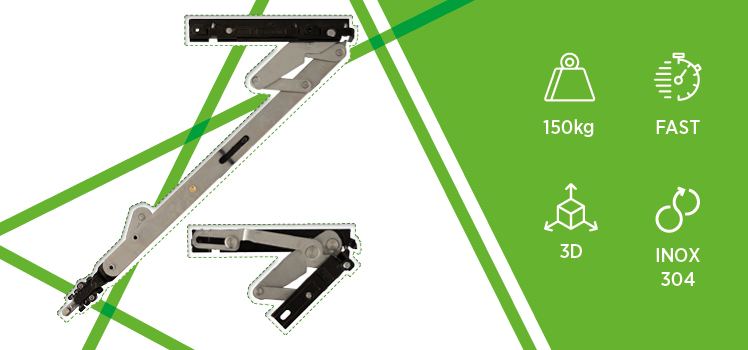 WHY CHOOSE THE NEW WEEN HIDE 180?
LOAD-BEARING CAPACITY
Up to 150 kg with sash support, 130 kg with 180° opening on tilt & turn and casement versions. Guaranteed to work perfectly on balcony doors and windows with maximum opening and maximum load-bearing capacity. 200 kg on bottom hung opening systems.
ADJUSTMENTS
Bottom hinge: gap -1/+2.5 mm | height +2 mm.
Arm: pressure +1/-1 mm | gap +4 mm.
The top and bottom hinges are fitted with protective overrider to ensure perfect coplanarity between hinges
QUICK COUPLING
Utmost efficiency in manufacturing and installation of hardware for windows and doors, thanks to the innovative hinge installation system. Independent top and bottom hinges to ensure fast and simple production of sash and frame that easily click into place.
DURABILITY
Total black galvanised components and 304 Stainless Steel levers for maximum corrosion resistance (class 4). Tested to the highest load-bearing capacities on all types and sizes of frames to provide absolute reliability and durability.
Discover the new Ween Hide 180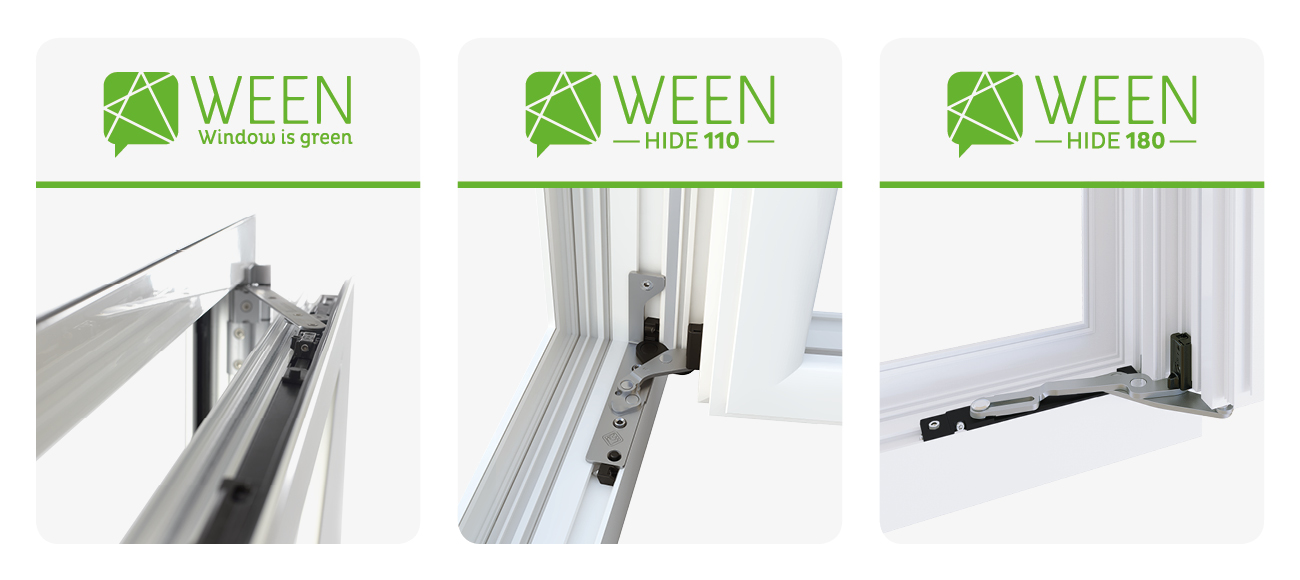 THE WEEN PROGRAM
The Master solution for tilt & turn, casement and bottom hung systems.
The introduction of a modular and comprehensive range, the increase in load-bearing capacity, the simple and intuitive assembly, and its utter "green" character make Ween the solution to the main requirements of today's window and door hardware and design markets, which have to respond to the ever-increasing demand for very large glass surfaces and high energy performance.
The name Ween combines the two words Windows and Green in a single product concept, because Master continues its green commitment by signing a voluntary agreement with the Ministry of Ecological Transition, in which it undertakes, as the first company in the window and door hardware sector, to define a methodology for calculating CO2 emissions with the aim to devise and implement measures for improvement and reduction thereof in the manufacturing process of its components.
The ween range is part of the environmental footprint assessment program promoted by the 𝐌𝐈𝐍𝐈𝐒𝐓𝐑𝐘 𝐎𝐅 𝐄𝐂𝐎𝐋𝐎𝐆𝐈𝐂𝐀𝐋 𝐓𝐑𝐀𝐍𝐒𝐈𝐓𝐈𝐎𝐍. Master conducted the analysis and accounting of CO2 emissions produced by the design and manufacture of window and door hardware.
Are you interested in our products?
Contact us